Creating websites has become simpler with the advent of modern Website building solutions. With the use of drag & drop page builders, you can design website in minutes without any coding knowledge. In this article, we will discuss a detailed comparison between Elementor & Webflow.
What is Webflow?
Webflow is a SaaS-based application that allows the designer to build a website with browser based visual editor. it was founded in 2013 in San Francisco by a group of visionary entrepreneurs to compete with other competitors in the industry like Squarespace, Weebly, and Wix. The visual editor of Webflow automatically generates HTML, CSS, and JavaScript. It also handles website administration tasks such as web hosting and website updates, making it an all-in-one website solution.
You can use Webflow to build Blogs, Portfolios, E-commerce, Business Websites & Landing pages. Signing up for Webflow is free of charge. But, if you want to publish your website live, you will need to pay a fee.
What is Elementor?
Elementor is a drag & drop page builder plugin for WordPress that allows users to easily create websites without the need for any coding knowledge. Over five million websites now actively use the WordPress plugin Elementor, which was launched in 2016. With its drag-and-drop interface and a vast library of templates, it become a popular choice for everyone. It offers advanced features such as the ability to create custom CSS and mobile-specific layouts and integration with popular WordPress plugins like WooCommerce and Gravity Forms. It is easy to use, affordable, and offers a wide range of design options, making it a top choice for all users.
1. Ease of use
Webflow
Launching a website with Webflow has become a lot easier than before. All you need to do is sign up with your Google account, or you can use your email, name, and password to register. Webflow ask you some question during the signup process to understand your technical knowledge. Once you're signed up, all you have to do is choose to start a new project. Webflow gives you a short tutorial when its Webflow designer launches.
Now you can create your Website with Webflow designer. if you want to start with a blank page then you need to select a blank page.
Webflow also provides premade templates to give a better look to your webpage. If you are a beginner with Webflow, then its pre-made templates are the best option to understand how the Webflow designer works. You will be familiar with web flow Designer within less time if you have already used other page builders.
Elementor
Elementor is the WordPress Plugin. It is the drag & drop page builder that provides elements to customize your website. To use Elementor, you need the hosted version of WordPress. After setting up WordPress you need to install Elementor Plugin. For installing Elementor read our previous article Elementor Reviews.
The interface of Elementor is simple and allows users to drag and drop widgets and elements onto their page. Once you become familiar with Elementor, then you will appreciate its power. Like Webflow, Elementor also provides premade templates that make it more suitable. Elementor provides a variety of widgets to add and customize various types of content on a website, such as text, images, videos, buttons, and more. These widgets are easy to use and offer a range of customization options, allowing users to create professional-looking and functional websites. Some examples of widgets that are available in Elementor.The Elementor pro gives more functions & features than its free version.
Ease of use-Winner Elementor
Ultimately, the choice between Elementor and Webflow will depend on your specific needs and skill level. If you're looking for an easy-to-use tool for building custom designs within WordPress, Elementor is a great choice. If you need more advanced development capabilities and want to build a website from scratch, Webflow may be the better option.
2. Customization
Webflow
Webflow provides advanced customization options to designers and developers to create unique websites. It offers both a visual interface for designing websites and advanced web development tools like custom code editing and dynamic content creation. This makes it possible to create complex animations, interactive features, and dynamic data-driven pages.
The platform provides a range of pre-designed templates that can be modified to fit the user's needs, as well as the ability to create custom designs from scratch. It also provides full control over every aspect of the design, including typography, colors, layout, and animations. Additionally, it includes a powerful CMS that allows users to create custom content types and manage and edit content directly within the platform.
Elementor
Elementor becomes a popular website builder with its drag & drop builder. The drag & drop builder makes website customization accessible to users of all skill levels. It offers a wide range of pre-made templates that can be easily customized.
Elementor provides typography, colors, layout, and animation options. Additionally, it offers advanced features such as custom CSS and global widgets for greater consistency in design.
One of the standout features of Elementor is its extensive library of third-party plugins and widgets. These plugins and widgets provide more customization options and functionality unavailable within the core Elementor platform. This allows users to add unique features and customizations to their websites without relying on custom code or a developer.
Customizations Winner Webflow
Overall, both Elementor and Webflow offer a high degree of customization options for creating websites. But, Webflow may provide more advanced customization options for experienced developers who require custom code editing and dynamic content creation.
3. E-commerce
Webflow
Webflow offers built-in e-commerce features, including inventory management and payment processing. The E-commerce capabilities allow you to set up your store, manage products, and process orders all within the platform. You can also customize the look and feel of your store to match your brand and create a seamless user experience for customers. Webflow makes it easy to manage orders, track shipping, and communicate with customers. You can view order details, send order notifications, and generate packing slips and shipping labels. it also supports integrations with third-party services such as ShipStation, Zapier, and Google Analytics to provide additional functionality and insights for your store.
Elementor
Elementor is a popular page builder plugin for WordPress that can also be used for e-commerce websites. Like Webflow, Elementor doesn't have built-in e-commerce capabilities. If you want to add e-commerce functionality to your Elementor website, you will need to use third-party plugins with Elementor. Some popular options include WooCommerce, Easy Digital Downloads, and Ecwid.
E-commerce winner: Webflow
Webflow is better than Elementor when it comes to creating online stores because it has more built-in e-commerce features and is more flexible. With Webflow, you can easily manage products, process orders, and customize the look of your store. It also supports several payment gateways and integrations with other services. In contrast, Elementor requires third-party plugins to add e-commerce functionality, which can be more complicated to set up and may not be as robust. Overall, if you want to create a professional and effective e-commerce site, Webflow is a better option than Elementor.
4. Content Management System(CMS)
Webflow
Webflow does have some positives as a content management system. You can manage all your content through the Webflow Designer by simply clicking on any part of the page and editing it. Basic formatting options are available for changes such as bolding text or adding links. In the page settings area, you can easily adjust settings like password protection, SEO, and custom code, which are easier to make changes than in WordPress.
However, Webflow has limitations. While it's easy to edit headlines and short captions, it's not ideal for longer pieces of text. Also, the most expensive plan only allows for up to 100 pages. Adding Collections for blog posts and categories through the settings area can be complicated, and there are restrictions such as the inability to format text or easily add links or images to blog posts. Furthermore, even with the CMS plan, the number of collection items is limited to only 2,000 items. These limitations make Webflow a less than ideal choice for managing large amounts of content.
Elementor
Elementor is a WordPress plugin that doesn't have its own content management system. Instead, you create content in WordPress and use Elementor to style your posts and pages.
WordPress is a great platform for publishing content, and there are no restrictions on the number of posts and pages you can add to your site. With custom post types, you can expand WordPress to power online shops, membership websites, directories, and more. You can manage your posts, pages, and custom post types using the main WordPress menu.
Elementor allows you to modify text directly in the canvas area, and you have more control over formatting than Webflow. You can add media, drop caps, columns and change styling settings like colors and borders. It is recommended to switch from Elementor's text editor to the WordPress block editor for a distraction-free writing experience in a minimalistic user interface, especially for long-form content.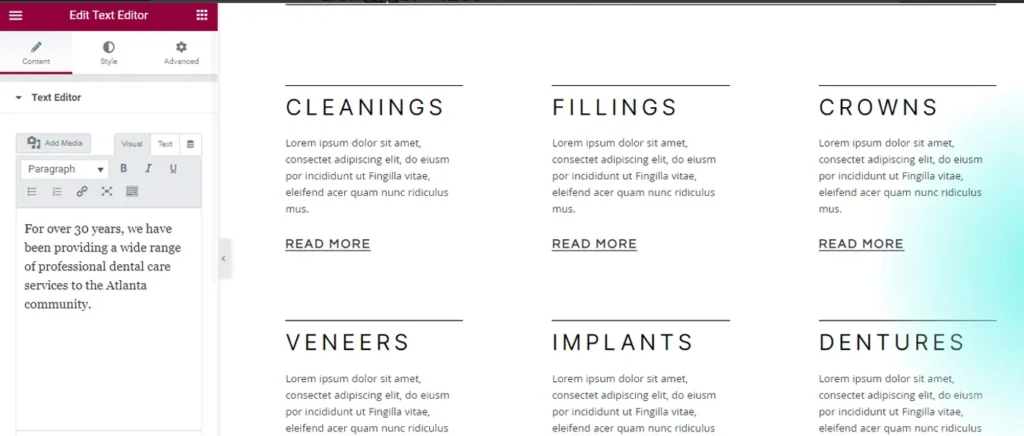 Content Management System(CMS) Winner:Elementor
Elementor is better than Webflow in content management system because it is built as a WordPress plugin. it is integrated with the powerful WordPress platform. WordPress is a well-established and widely used content management system that has a huge community. This makes it easier to manage and publish content as there are no restrictions on the number of pages or posts you can create.
5. Customer Support
Webflow
If you want to create a website with Webflow, it's usually quick and easy. If you have any questions or problems, you can find answers at Webflow University, which has many lessons and videos. There's also a blog with tips. If your website goes down, you can check the Webflow Status Tool to see what's going on. If you need help, you can ask other Webflow users in the Discussion Forum, or you can open a support ticket. Webflow tries to answer tickets within 24-48 business hours, but they only offer support Monday through Friday from 6:00 am to 6:00 pm Pacific Time, so you may have to wait a few days for help if you contact them on a weekend
Elementor
Building a website with WordPress has a large community, so you can find help from discussion forums and groups on social media. You can also get help from your hosting company for important issues, as they usually offer 24/7 ticket support and sometimes telephone support.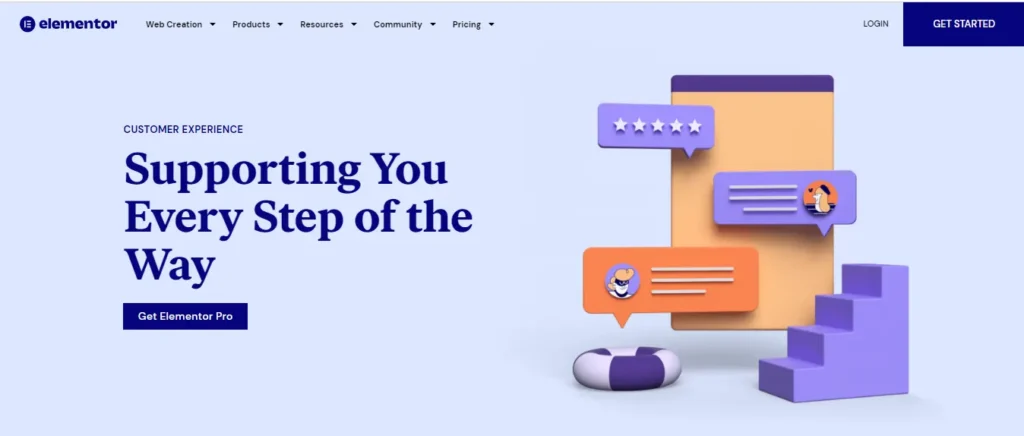 If you want to learn more about how Elementor works, you can check out their support area, which has many tutorials, including written and video ones. There's also an active Elementor Facebook group with about 100,000 members.
Elementor Pro customers can get direct help through a 24/7 support ticket system.
Customer Support Winner: Elementor
Elementor has a well-developed support system, with an extensive knowledge base, video tutorials, and an active community forum with over 100,000 members. Additionally, Elementor Pro customers have access to a 24/7 support ticket system, allowing for direct help when needed. The support team responds promptly and is known for its expertise and helpfulness in resolving issues.
6. Pricing
Webflow Pricing
Webflow offers several pricing plans based on your website's needs. The first Webflow pricing plan is a free plan that allows you to create two projects with limited functionality. The Lite plan is $16 per month for basic websites with fewer than 25,000 monthly visits. The Professional plan is $35 per month and includes features like CMS, unlimited hosting, and up to 100,000 monthly visits. For larger websites with high traffic, the Business plan is $74 per month and includes features such as priority support and increased CMS limits. There is also an Enterprise plan available for those with unique website needs. All plans come with a 14-day money-back guarantee so that you can try them out risk-free.
Elementor Pricing
Elementor offers three pricing plans for its plugin. If you have read my Elementor Reviews article, you will know that Elementor is the best content management system. The first plan is the Personal plan, which costs $49 per year and can be used on one website. The second plan is the Plus plan, which costs $99 per year and can be used on up to three websites. The third plan is the Expert plan, which costs $199 per year and can be used on up to 1,000 websites. All plans include access to the Elementor Pro plugin, which provides advanced features such as theme building, WooCommerce integration, and dynamic content capabilities. Elementor also offers a 30-day money-back guarantee for all plans.
Pricing Winner: Elementor
Elementor's pricing stands out as a better option than Webflow's due to its wider range of plans. With its free version, Elementor offers basic features that are suitable for beginners and small websites. In contrast, Webflow's free plan has limited functionality and includes branding on your site.
Furthermore, Elementor's paid plans are generally more affordable than Webflow's, particularly for those who only require basic features. For instance, Elementor's Personal plan costs $49 per year, whereas Webflow's CMS plan costs $16 per month (or $192 per year).
Final Thoughts
I hope you found this comparison of Webflow and Elementor helpful. Both of these tools can be used to make great-looking websites, but they have their own advantages and disadvantages.
Webflow is a good choice for small websites or online shops. You can choose from pre-designed templates and use the Webflow Designer to add your own content and customize the look of your website. But it has some limitations like you can't easily change the template or add many blog posts.
Webflow Pros
Webflow is easy to use, even if you don't have coding skills or technical expertise.
It offers advanced functionality, such as animations, interactions, and CMS capabilities.
Webflow allows you to build responsive websites that look great on any device.
You have control over every aspect of your website's design, from typography to layout.
Webflow provides hosting, security, and maintenance, so you don't have to worry about managing your website's technical details.
Webflow Cons
Limited template selection: Webflow has a limited selection of templates compared to other website builders.
Limited page count: Webflow limits the number of pages you can create based on your subscription plan.
Learning curve: There is a learning curve when using Webflow, especially if you're not familiar with design software.
Expensive: Webflow's pricing plans can be expensive compared to other website builders.
Limited blogging capabilities: Webflow's blogging capabilities are limited, making it difficult to manage and publish large amounts of content.
On the other hand, WordPress with Elementor is a better option for larger websites because it has fewer restrictions and more options to add functionality. With Elementor, you can customize every part of your website design with ease. However, it takes some time to learn how to use the interface. To learn about the pros and cons of Elementor, you can read my previous article on Elementor reviews.
Overall, it's important to do your own research and try out these tools before making a decision. You want to make sure that the tool you choose is the right fit for your needs.
Surinder Sahni is the founder of WPGuiders, a website dedicated to providing quality WordPress tutorials, guides, and reviews. With a passion for technology and a desire to help others. In addition to running WPGuiders, Surinder enjoys spending time with his family, traveling, and staying up-to-date with the latest developments in the WordPress community.